Miami Grove Isle, Jana & Ben svatební fotografieMiami Grove Isle, Jana & Ben wedding photography
Spousta dojmů a obrovská krásná zkušenost je to, co vystihuje mé svatební fotografování na Miami. Jana, nevěsta, mne poprvé oslovila minulý rok, zda bych byl ochotný přiletět na Miami a vyfotografovat jim svatbu. Termín jsem měl volný, tudíž jsme se dohodli. Stejně jako tehdy mám i dnes radost, že se mi vše podařilo a fotografie, které jsem pořídil, jsou nádherné.
Ačkoliv hlavní svatební program začínal až v šest hodin večer, přijel jsme do Grove Isle resortu již dopoledne. Tak jsem mohl být s nevěstou od samého začátku příprav a vše vyfotografovat. Začali jsme s focením šatů, ale protože byly tak dlouhé, že se nevešly do místnosti, musel jsem vylézt na strom, abych je celé vyfotil. Ano, v bíle košili a černých botách jsem šplhal po stromě :).
Maminka s Janou připravily pro hosty spoustu krásných dárků a překvapení. Nádherně zabaleno, vše pečlivě ručně vytvořeno. Úžasná práce a skvělá příprava svatby vytvořily pro všechny kouzelný a neopakovatelný zážitek. Díky!
Jana si také navrhla vlastní kolekci šperků, která jen podtrhla její krásu a její úsměv, kterým nás provázela celý den. Od svatebního obřadu, přes fotografování, originální první tanec až po rozdávání dárků a večerní párty. Jana se krásně smála a užívala si svou svatbu!  A tak to má být, ne:)?
Děkuji za důvěru fotografovat právě vaši svatbu, Jani a Bennette, a přeji vám vše dobré do společného života.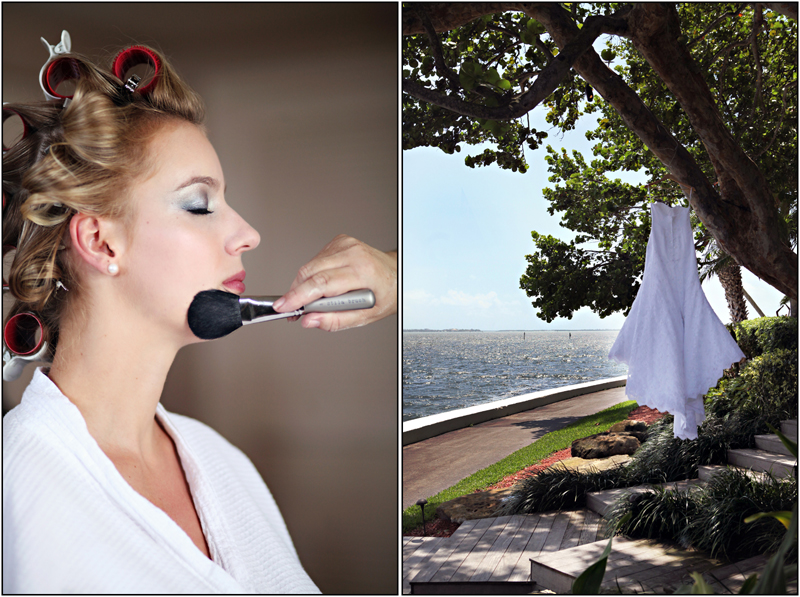 Lots of impression and enormous beautiful experience is what reflects my wedding photography from Miami. Jana, the bride, emailed me last year if I was willing to fly to Miami and take wedding pictures for them. The date was free, so I agreed. today I am happy as that day that I succeeded and all photos that I took are beautiful.
Although the main wedding program started up at six o'clock in the evening, I arrived in the Grove Isle Resort in the morning, so I could be with the bride from the very beginning and photographed the entire story. We began with the dress, but because it was so long it did not enter the room, I had to climb a tree to hang the dress there… yes in white shirt and black shoes 🙂
Jana and her mum had prepared plenty of beautiful gift and surprise for their guests. All beautifully packaged, all carefully hand created. Amazing work and greatly prepared wedding. For all of us a magical and unforgettable experience. Thank you!
Jana also designed her own jewelry collection, which underscored her beauty and her smile that accompanied us throughout the day. Since the wedding ceremony, through photography session  over original first dance to the distribution of gifts and dinner parties with Jana`s beautiful smile we enjoyed the wedding entirely! And so it should be 🙂
Thank you Jana and Bennett for your trust to let me shoot your wedding photographs and wish you all the best in your life together.