Daria & Slava, svatba ve slunci, větru i deštiDaria 7 Slava, gorgeous fall wedding in Prague and Jemniště Castle

Daria byla a je má letošní extra special nevěsta! Poprvé mi napsala brzy na jaře, zda bych mohl být jejim svatebním fotografem. Bohužel termín jsme měl již obsazený, tak Daria řekla: "To nevadí, mi si změníme datum svatby." A tak jsem ji mohl fotografovat v krásné podzimní Praze, kde se připravovala na své ANO. Samotný obřad probíhal na zámku Jemniště. To je místo, které mám čím dál tím více rád, je to opravdový zámek a místní kaple je prostě super! Bylo až neuvěřitelné, že se na nás ten den usmálo i slunku, sice jen na pár minut, ale podařilo se. Poslední zastávkou této svatby byl zámek Průhonice. Tady nás už zastihlo opravdu podzimní počasí s deštěm, ale i tak to bylo parádní.
Mezi námi, jakou lepší podzimní svatbu si člověk má představit než inverzi v Praze, sluníčko na Jemništi a déšť v Průhonicích?":)
Dario a Slávo, přeji Vám ať prožijete celý život s takovou grácií, s jakou jste prožili celý svůj velký den!
Květiny: Květiny Pamela
Vizáž: Denisa Čiháková
Asistentka: Zina
Závěrem bych chtěl poděkovat Jolaně, za skvělou spolupráci a přístup k novomanželům na zámku Jemniště. Dekuji!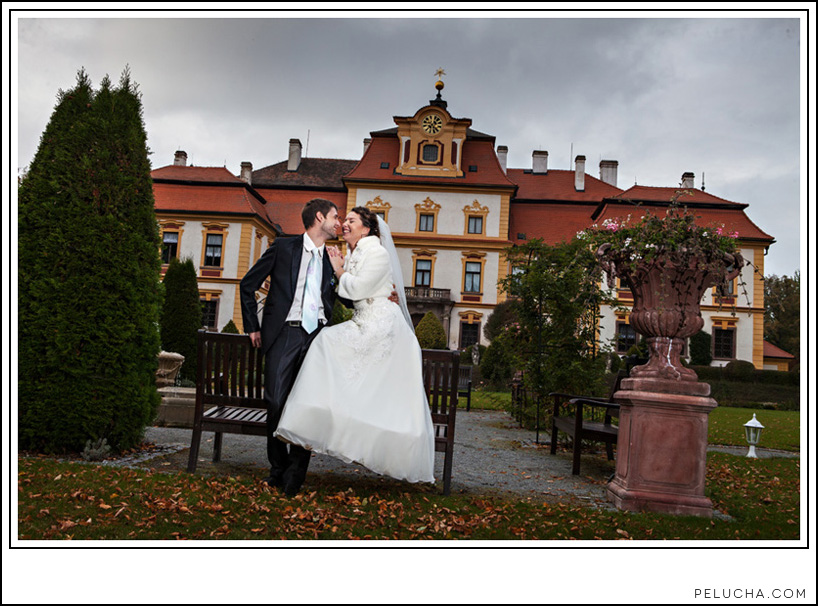 Daria has been and is this year's extra special bride! The first time she wrote me was early in the spring, if I could be her wedding photographer. Unfortunately, the term I had already occupied, so Daria said, "That's okay, I can change the date of our wedding." And so I could shoot this great couple in beautiful autumn Prague, where they were preparing for their YES. The actual ceremony took place at the castle Jemniště. It is a place that I have more and more like it's a real castle and the local chapel is just awesome! It was unbelievable that we were so lucky that day and sun smiled upon us there, although only for a few minutes, but it did. The last stop of this wedding was at Průhonice castle. Here we had really caught the autumn weather with rain, but even so it was great.
Between us, what better autumn wedding is to imagine than inversion in Prague, the sunshine in Jemniste and rain in Průhonice? ":)
Daria and Slava, I wish you both enjoy your life with such grace with which you enjoy all your big day!
Flowers: Květiny Pamela
Make up artist: Denisa Čiháková
Assistent: Zina
Finally, I would like to thank Jolana, for the excellent cooperation and access to the newlyweds at the castle Jemniště. Thank you!