Svatba ve Zlíně, Peťa a KlárkaWedding in Moravia, Petr and Klara
Láska Peti a Klárky je něco naprosto úžasného!
Peťa je přesně ten kamarád, se kterým jsem si hrával na indiány a chtěl jsem s ním být ve stanu na každém táboře. Prožili jsme toho opravdu spoustu. O to těžší bylo zjištění, kdy mu jednoho dne lekáři diagnostikovali rakovinu. Jako blesk z čistého nebe. Nebudu lhát, když řeknu, že se všem svíralo hrdlo, jen na to pomyslet. Peťa si prošel všeličím, ale nikdy svůj boj nevzdal. A možná právě to, že byl blíže ke druhé straně břehu života než kdokoli z nás obyčejných lidí, ho udělalo silnější osobností.
Je tomu právě rok, kdy Peťa vzal Klárku do kina. Sedli si a na plátně se v hlavní roli ukázala Klára. Jen si to představte: jdete do kina jen tak, začne hrát film a vy vidíte sami sebe – to je jako ve snu, ne? A právě takto Peťa požádal Kláru o ruku. Osobně sestříhaným filmem ve skutečném kině! Rok se s rokem sešel a já jsem měl tu obrovskou čest fotografovat pravě jejich svatbu…
Od samého rána to byl neobyčejný den. Klárka pomáhala doma mamince, starala se o hosty a až na poslední chvíli vklouzla do šatů, které jí ušila maminka. Zanedlouho přijel Peťa, byl celý nervózní, objal Klárku, chytili se za ruce a vykročili do společného začátku…
Kláro, Peťo! Pro mne jste obrovskou inspirací žít každý den naplno v odevzdání jeden druhému. Vaše láska je daleko za hranicí všednodennosti a já jsem šťastný, že se sny a modlitby spusty lidí naplnily právě ve vašem vztahu. Držím vám palce, ať jste šťastní.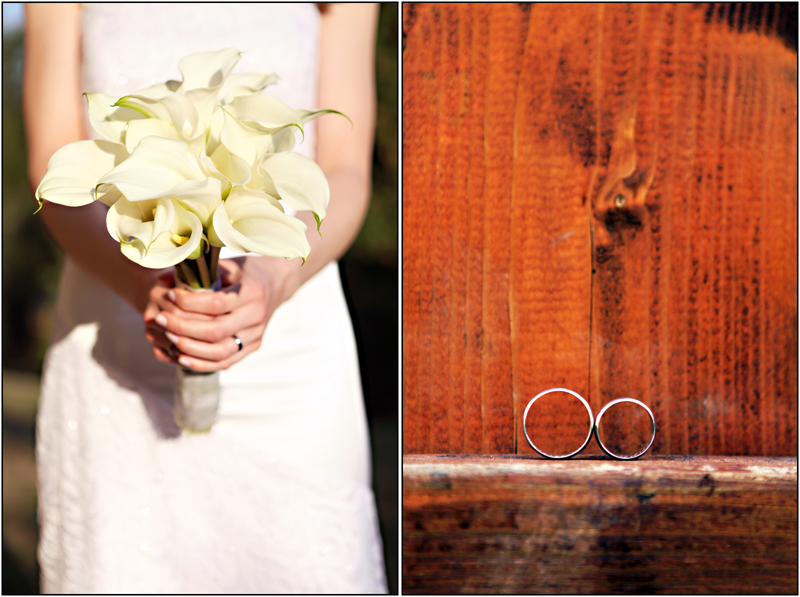 Peter`s and Klara` s love is something absolutely gorgeous.
Peter is that type of friend i used to play as a small boy with and wanted to be with him at all those summer camps. we experienced so much together. Therefore it was much harder, when he was diagnosed a cancer. it was like a flash from a clear sky. I won`t lie if i say that everyone got scared just by the thought of it. Petr went through all the possible stuff, but never gave up. and maybe the fact that he was much closer to the "other" side made him much stronger then us.
  It` s been exactly a year when he took Klara for movies. they sat down and the in the title role was klara. just imagine that – you go to cinema , just like that and the movie starts playing and you see – yourself. it` s like in a dream, isn`t it? and that` s exactly how Petr proposed. well, and a year later i was honoured to photograph their wedding. from the early morning it was an unordinary day. Klara helped her mum out and took care of the guests and  in the very last moment she put her wedding dress on, which by the way was made by her mum :} then Petr showed up, he was all nervous, he hugged Klara, took her by the hand and so they began their life togehter…
God bless!! You are amazing!